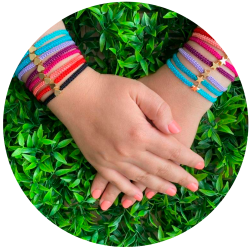 On special dates, your customers and employees deserve handcrafted gifts in Colombia
Thank you for thinking of us!
We design fun products that are tailored to your company's needs and generate brand rememrance.
We believe in 100% handmade products in Colombia, for this reason, we want to change the concept of imported promotional and manufacture personalized corporate gifts from the hand of our business customers.
We have developed different products for foundations that need to raise funds, companies that sell merchandising and even brands that want to give a different gift.
If you are interested in developing a customized product for your brand, write us at [email protected] with the number of units you need and a photo, drawing or description of what you are looking for with this customization. We will contact you and accompany you throughout the process.
SOME CORPORATE PROJECTS WE HAVE CARRIED OUT
¡The imagination has no limits! Encourage yourself to give a different gift to your customers, employees or suppliers on special dates such as Women's Day, Mother's Day, Father's Day, Love and Friendship, Birthday, Christmas or any other occasion. We can customize the packaging with the logo of your brand and the message you want to put*.
*Packaging with customer logo and message applies from 100 units.
Leave your ideas in the form